Joe Manchin wanted to use drug settlement money for 'governor's helicopter': report
Joe Manchin wanted to use drug settlement money for 'governor's helicopter': report
West Virginia Democratic Sen. Joe Manchin tried to secure a personal "Governor's Helicopter" during his time as the state's governor, using funding from a prescription drug settlement that was intended to combat illegal drug use.
A decade ago, the state of West Virginia was set to receive $44 million from the maker of OxyContin, Purdue Pharma, over its misleading claims concerning the addictiveness of the drug, just as the death from opioid addiction was skyrocketing in the state.
Manchin's office publicly touted his role in deciding how to spend the settlement money, with Joe Thornton, the governor's cabinet secretary for military affairs and public safety, saying "we may be wanting to think out of the box a little bit" on how to use the funds.
The "out of the box" attitude led to Manchin requesting $3 million for the helicopter, according to documents obtained by the Washington Free Beacon.
"Governor wants settlement funding dedicated to purchase a new helicopter," an August 2007 memo circulated by Carte Goodwin, Manchin's chief counsel, read. The proposal was reportedly marked as "Governor's Helicopter."
PRESIDENT TRUMP APOLOGIZES TO BRETT KAVANAUGH AND HIS FAMILY AT CEREMONIAL SWEARING-IN AS SUPREME COURT JUSTICE
"This request needs not only to determine the ability to fund, but under what circumstances would a helicopter be allowed under the stipulations of the settlement. Call me if you have questions or this doesn't make sense. $3 million," the memo states.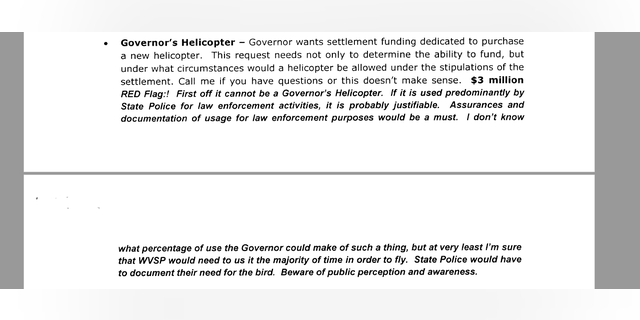 Manchin's request for a helicopter was deemed a "RED FLAG" after a review by Norbert Federspiel, the director of the Division of Criminal Justice Services, according to the outlet. "First off it cannot be the Governor's Helicopter," a note reportedly reads.
Federspiel criticized the idea of a personal helicopter for the governor and wasn't sure the $3 million cost could be justified.
"If it is used predominantly by State Police for law enforcement activities, it is probably justifiable," he said. "Assurances and documentation of usage for law enforcement purposes would be a must. I don't know what percentage of use the Governor could make of such a thing, but at very least I'm sure that [West Virginia State Police] WVSP would need to us [sic] it the majority of time in order to fly.'
SENATE DEM HOPEFUL KYRSTEN SINEMA PROMOTED EVENTS FEATURING CONVICTED TERROR LAWYER
"State police would have to document their need for the bird," he added. "Beware of public perception and awareness."
Manchin apparently accepted the advice and no purchase of the helicopter using the funds from the settlement was made.
The Democratic senator is currently facing a tough battle to keep his seat in a deep-red state suffering from the highest rates of opioid-related deaths.
A new Republican poll claims Manchin is leading his Republican opponent Attorney General Patrick Morrisey by only 1-point.
Manchin's campaign did not return a Fox News request for comment.
Published at Thu, 11 Oct 2018 16:14:09 +0000